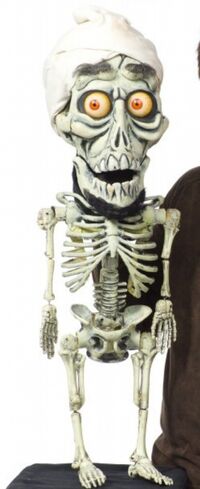 Achmed the Dead Terrorist
(portrayed by Jeff Dunham) is the hilarious dead terrorist of ventriloquist Jeff Dunham. He was once a terrorist, but a lousy one. His famous catchphrase is "Silence! I kill you!". Since his first appearance, Achmed has become quite famous.
Controlled Chaos
reveals that he has a son named Achmed Jr.
Trivia
Gallery
Ad blocker interference detected!
Wikia is a free-to-use site that makes money from advertising. We have a modified experience for viewers using ad blockers

Wikia is not accessible if you've made further modifications. Remove the custom ad blocker rule(s) and the page will load as expected.