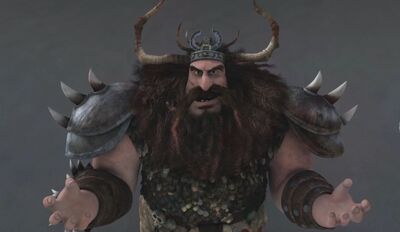 Alvin The Treacherous (Voiced By Mark Hamill)  is the leader of the Outcast Tribe and the main recurring antagonist of Dragons Riders of Berk. Suffering from the same issues Berk had at the start of the feature film, he invaded Berk, seeking to capture the "Dragon Conqueror" by taking hostages to trade. When he discovered from Hiccup and his friends that dragons are able to be tamed and domesticated, Alvin constantly develops plans to kidnap Hiccup in order to use the dragons for his own purposes, primarily to take control of other lands by threats and force. In the season 1 finale, Alvin captues Hiccup and Toothless with Mildew's help. Although Hiccup and Toothless escaped with the help of Stoick, Astrid and the others, Mildew managed to give Alvin infomation on how to tame dragons. At the end, he tames a Whispering Death dragon. He Now travel The World Searching for Hiccup And The gang to Destroy Them, Along With The Other Villains, Mildew, Savage, And Dagur The Deranged.
Trivia
Ad blocker interference detected!
Wikia is a free-to-use site that makes money from advertising. We have a modified experience for viewers using ad blockers

Wikia is not accessible if you've made further modifications. Remove the custom ad blocker rule(s) and the page will load as expected.