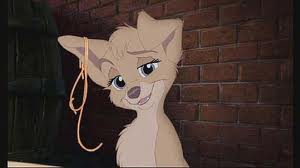 Angel (voiced by Alyssa Milano) is the deuteragonist of Jaden's Adventures of Lady and the Tramp 2: Scamp's Adventure. Her name is given from her sweet and beautiful personality. She was owned by many owners, but they've all given up on her for different reasons. After she met Scamp, they became friends, and eventually developed a relationship. After Scamp was caught by the dogcatcher, she and Tramp free him, and Angel becomes part of Scamp's family.
Trivia
Ad blocker interference detected!
Wikia is a free-to-use site that makes money from advertising. We have a modified experience for viewers using ad blockers

Wikia is not accessible if you've made further modifications. Remove the custom ad blocker rule(s) and the page will load as expected.