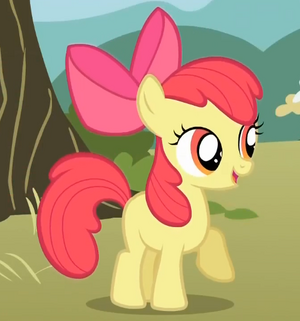 Apple Bloom
(voiced by Michelle Creber) is a character from
My Little Pony: Friendship is Magic
. She's
Applejack
's little sister. Her best friends are
Sweetie Belle
and
Scootaloo
. Her cousin is
Babs Seed
. Since she and her friends don't have cutie marks yet, they've tried to get their cutie marks in many ways.
Trivia
Apple Bloom will guest star in Jeffrey & Friends meet Bambi. At the end, she'll join the team.
Apple Bloom is a member of a group she and her friends made together. They call themselves The Cutie Mark Crusaders.
In the episode "Twilight Time", Apple Bloom learns how to make a potion that make plants grow.
Gallery