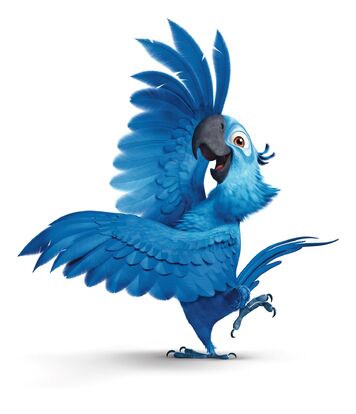 Blu (voiced by Jesse Eisenberg) is one of two species of blue macaw that would have been extinct. He firstappeared in Jaden goes to Rio, where Jaden and the gang helped win the love of a beautiful female macaw named Jewel. Their personalities were way opposite from each other. He was flightless, and acted with his head, while Jewel was a free-spirited flyer. It made it more difficult when poachers and Nigel the Cockatoo were after them. But they eventually mate in the end.
Trivia
Blu, Jewel, Rafael, Nico And Pedro will guest star in Jaden Goes Into the Enchanted Tiki Room Under New Management.
Blu, Jewel, Rafael, Nico, and Pedro will also guest star in Jaden's Adventures of Madagascar 3.
Blu will guest star in Pooh's And Jaden's Adventures of ChalkZone The Big Blow Up.
Blu will meet Jeffrey and his friends in Jeffrey & Friends go to Rio.
Blu, Jewel, Rafael, Nico, and Pedro will also guest star in

the

Jeffrey, Jaden and Friends meet Indiana Jones

saga.

Jaden and Jeffrey will meet Blu again in Jeffrey, Jaden, & Friends' Storm Adventures of Rio 2.
Ad blocker interference detected!
Wikia is a free-to-use site that makes money from advertising. We have a modified experience for viewers using ad blockers

Wikia is not accessible if you've made further modifications. Remove the custom ad blocker rule(s) and the page will load as expected.