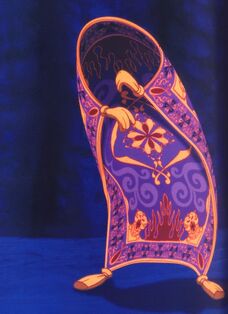 Carpet is one of Aladdin's friends who appeared in Jaden meets Aladdin. Aladdin, Abu and Jaden found him in the Cave of Wonders, and he instantly became loyal to the group. He is known for is ability to fly, and has helped provide Aladdin a romantical moment with Princess Jasmine. While he isn't able to speak (for VERY obvious reasons), Carpet's expressions speaks for us.
Trivia
Carpet will reappear in Jaden's Adventures of the Return of Jafar, and Jaden's Adventures of Aladdin and The King of Thieves.
Carpet will appear in Jeffrey & Friends meet Aladdin.
Ad blocker interference detected!
Wikia is a free-to-use site that makes money from advertising. We have a modified experience for viewers using ad blockers

Wikia is not accessible if you've made further modifications. Remove the custom ad blocker rule(s) and the page will load as expected.