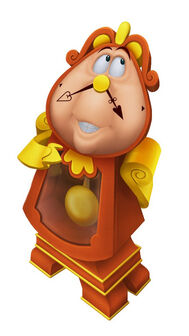 Cogsworth (voiced by David Ogden Stiers) is a major character in Jaden meets Beauty and the Beast. He serves as one of the Beasts servants, who along with everyone else was placed under an enchantment. Cogswarth is a bit of a stick in the mud, because he intrudes on everyone's fun, and trys to stop Lumiere's ideas. But it's only because he is afriad of The Beast's anger. In the end, Cogswarth, along with everyone else, returned to their original form.
Trivia
Gallery
Ad blocker interference detected!
Wikia is a free-to-use site that makes money from advertising. We have a modified experience for viewers using ad blockers

Wikia is not accessible if you've made further modifications. Remove the custom ad blocker rule(s) and the page will load as expected.