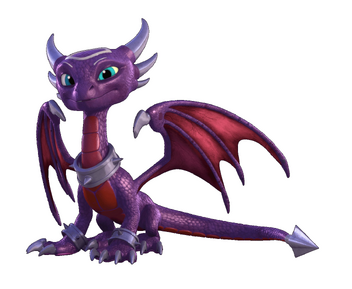 Cynder
 (voiced by Felicia Day) is a female black dragon from
The Legend of Spyro
video game series. She was once evil, but thanks to Spyro, she became good. She has the power of Poison, Fear, Wind and Shadow.
Trivia
Cynder will meet Jeffrey and his team in Jeffrey & Friends meet The Hobbit (Animated).
She'll guest star in Jeffrey, Spongebob, Spyro, Dave Felis & Friends meet Flubber and Jeffrey, Spongebob, Spyro & Friends join Underfist.
Gallery
Ad blocker interference detected!
Wikia is a free-to-use site that makes money from advertising. We have a modified experience for viewers using ad blockers

Wikia is not accessible if you've made further modifications. Remove the custom ad blocker rule(s) and the page will load as expected.