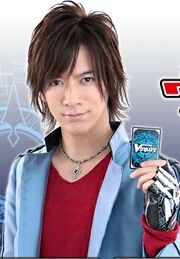 "Stand Up, The Vanguard! Wish!" - Daigo playing against Kyou.
Daigo (Voiced, & Portrayed by himself) is a legendary Cardfighter in the Trading card game, Cardfight!! Vanguard. He's one of the most powerful, & most amazing player ever to play the game. Daigo is one of the most famous Japanese celebraties ever known. He's also known to star on the Rock Band, BREAKERZ, as well as the latest movie Ultraman Saga, as Taiga. Daigo is also a very ethuseastic, funny, and very well known person, to play against in Vanguard. Daigo is known to help out people when they need help fitting in, or getting intrested in playing games like Vanguard. Daigo is almost like a hero, and a role model to fans of the game all around the world.
Daigo plays using the Royal Paladin Deck, with his ace card being White Dragon Knight, Pendragon. His secondary main card is called, Sanctuary Guard Dragon, which happens to be reference to Draco from Dragonheart, & King Arthur of the legendary tales of King Arthur Pendragon of Camelot.
One last thing to say, "Ride The Vanguard!"
Roles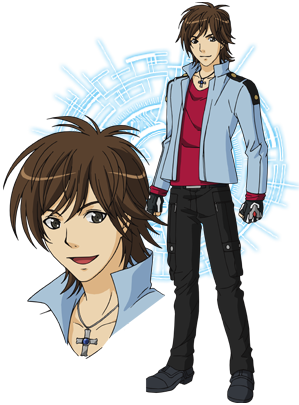 Daigo has stared in many films, music videos, & even in the anime Cardfight!! Vanguard. Daigo makes his cardfighting debut in the movie STAND UP!! Vanguard. In the movie he helps a young boy named Hiroto, try & find some courage so he can be more open, & finally make some friends, their he's introduced to the game, Cardfight!! Vanguard, where he actually becomes more, & more skilled in the game, to becoming a friend to Hiroto himself. The first time we see him is in the anime, is in episode 83, where he gets trapped in a dimensional warp, & he's actually doesn't seem to be worried about it. We don't see him again until episode 119 where he battles against Kourin Tatsunagi, & wins, we haven't seen him in the anime since. However he's also been known to star on Vanguar-road, where two other, famous among people, & DAIGO himself star a game show to help improve the the chosen teams in the card game, Cardfiht!! Vanguard, it's called Vanguaroad. He even presented one of the graduates, with a Cardfight!! Vanguard cerficate, along, with the help of his friend who voices the japanese voice for Misaki Tokura, gives him a spot in an episode of the Cardfight!! Vanguard anime.
Trivia
Daigo will become Aaron's friend in Aaron's Adventures in Stand Up Vanguard.
Ad blocker interference detected!
Wikia is a free-to-use site that makes money from advertising. We have a modified experience for viewers using ad blockers

Wikia is not accessible if you've made further modifications. Remove the custom ad blocker rule(s) and the page will load as expected.