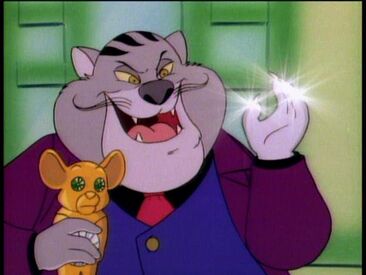 Fat Cat (voiced by Jim Cummings) is one main antagonists in Chip 'n Dale Rescue Rangers, who is an underworld crimelord. He has four henchmen named Wart, Mole, Mepps, and Snout.
Trivia
Fat Cat will become Xion's enemy in Xion's Ohanna Adventures of Chip and Dale: Rescue Rangers - To the Rescue.
He'll also become Jeffrey and Jaden's enemy.
Ad blocker interference detected!
Wikia is a free-to-use site that makes money from advertising. We have a modified experience for viewers using ad blockers

Wikia is not accessible if you've made further modifications. Remove the custom ad blocker rule(s) and the page will load as expected.