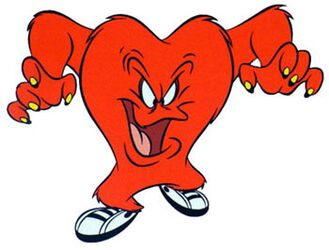 Gossamer (originally voiced by Mel Blanc, currently voiced by Kwesi Boakye) is a large hairy red monster clad in a pair of sneakers. He loves spider goulashes and is afraid of people.
Trivia
Gossamer first appears as a villain in Bugs and Daffy's Adventures of We're Back! A Dinosaur's Story, as a pet of Professor Screweyes. It is unclear as to whether he will return in a future Bugs and Daffy's Adventure.
He appears as a villain in The Journey of Hope, alongside fellow Looney Tunes villains Elmer Fudd, Yosemite Sam, and Marvin the Martian.
Ad blocker interference detected!
Wikia is a free-to-use site that makes money from advertising. We have a modified experience for viewers using ad blockers

Wikia is not accessible if you've made further modifications. Remove the custom ad blocker rule(s) and the page will load as expected.