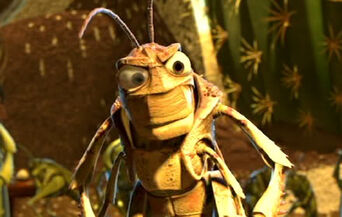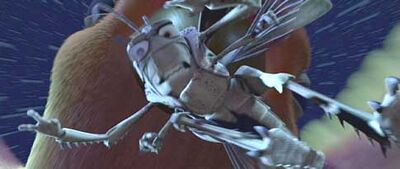 Hopper (voiced by Kevin Spacey) is the leader of a group of grasshoppers, and is the main antagonist of Jaden's Adventures of A Bug's Life. He kept a colony of ants as slaves and forced them to pick the food for the grasshoppers. He did this so that he could make the ants be weak physically and mentally (believing they don't have a chance against them). However, his power was brought to an end by Flik, Jaden and his friends. Hopper meet his his demise and death when Flik led him to a bird's nest and was fed to the babies as food.
Trivia
Hopper will return for revenge in Jaden knows It's Tough To Be A Bug.
Hopper will become Jeffrey's enemy in Jeffrey & Friends' Storm Adventures of A Bug's Life.
Ad blocker interference detected!
Wikia is a free-to-use site that makes money from advertising. We have a modified experience for viewers using ad blockers

Wikia is not accessible if you've made further modifications. Remove the custom ad blocker rule(s) and the page will load as expected.