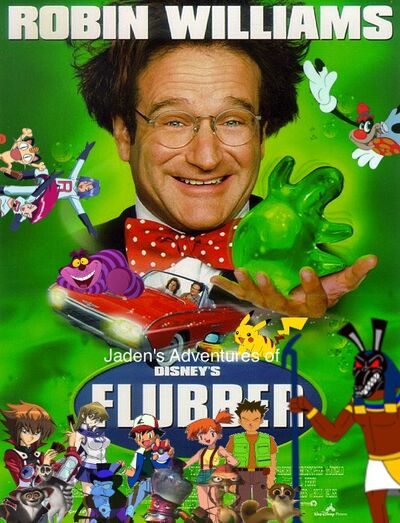 Jaden's Adventures of Flubber is an upcoming Jaden's Adventure film to be created by Ren the God of Humor.
Plot:
An absent-minded professor named Philip Brainard makes a brilliant discovery when he creates a green substance called Flubber that creates an a tremendous amount of energy as it bounces. With it, and with Jaden, Ash, and the other's help, it could help finance a college that may be closed.
Trivia
Ash Ketchum, Misty, Brock , Pikachu, Togepi, King Julien, Maurice, and Mort will guest star in this.
Set the God of Chaos will guest star in this along with Jessie, James and Meowth.
Instead of the flying car, Pikachu will use his bright electricty to set off Flubber during the fight scene.
By the end of the movie, Philip will bequeath Weebo to Jaden, who promises to take care of her.
Set and Team Rocket will work for Wilson Croft, Philip's arch-rival.
Scenes
Battle
Philip: *whispers* Do it for Weebo.
Flubber: *growls*
Wilson: LOOK OUT!!!!
Jaden: Now!
Ash: Pikachu!!! Thunderbolt!!!
Pikachu: Pikaaaaaaaaachuuuuuuuuuuuuuuu!!!!!! *unleashes a bright Thunderbolt attack*
(The bright light causes Flubber to go crazy and bounce around the room)
Chester: GET HIM!!!
(Smith and Wesson attempt to punch Philip, but Philip jumps with the flubber on his shoes, and Smith and Wesson end up punching each other)
Set: STOP THEM!!!!
Jessie: Right! Arbok! Go!!! *throws a Pokéball*
James: Weezing!!! Go get 'em!! *throws a Pokéball*
Epilogue: