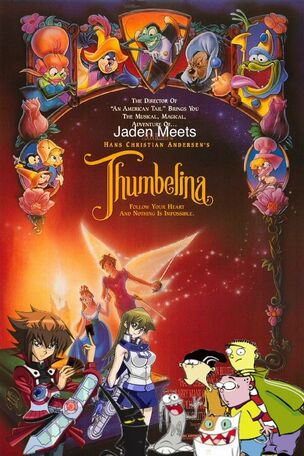 Jaden Meets Thumbelina is an upcoming crossover adventure created by Ren the God of Humor.
Plot:
Jaden, Edd, Waffle, Mr. Blik, and Thumbelina have been kidnapped by a toad, and must find their way home. In this movie, Jaden reforms Berkeley Beetles, and Beetles joins Jaden on his adventures in exchange for saving him.
Trivia
Gordon, Waffle and Mr. Blik will guest star in this.
Songs
Thumbelina - Farm Animals, Jaden, Alexis, Ed, Edd, Eddy, Gordon, Waffle, and Mr. Blik.
Soon - Thumbelina
Let Me Be Your Wings - 

Cornelius and Thumbelina

On The Road - Mrs. Toad, Thumbelina, Grundel, Mozo, Gringo, Jaden, Waffle, and Mr. Blik.
Follow Your Heart - 

Jacquimo, Jitterbugs, and Birds

You're Beautiful, Baby - Berkeley Beetles and the Beetle chorus
Marry the Mole - 

Ms. Fieldmouse

Let Me Be Your Wings (reprise) - 

Thumbelina, Cornelius, Jacquimo, and Jaden
Ad blocker interference detected!
Wikia is a free-to-use site that makes money from advertising. We have a modified experience for viewers using ad blockers

Wikia is not accessible if you've made further modifications. Remove the custom ad blocker rule(s) and the page will load as expected.