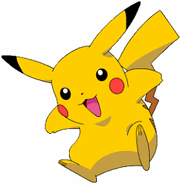 "Pikachu!" - Pikachu's usual sayings. (Translation: "Awesome!")
Jeffrey's Pikachu is one of the founding members of Jeffrey's team.
He is also Jeffrey's starter Pokemon.
Pikachu's Moves
Thunderbolt
Thundershock
Iron Tail
Focus Punch
Volt Tackle
Seismic Toss
Grass Knot
Quick Attack
Endure
Swift
Thunder
Trivia
Jeffrey's Pikachu becomes VERY close friends with B.E.N..
Jeffrey's Pikachu has a strong love for ketchup just like Ash's Pikachu.
During their spare time, Jeffrey and his Pikachu practice having him speak like his trainer by acting. 
Ad blocker interference detected!
Wikia is a free-to-use site that makes money from advertising. We have a modified experience for viewers using ad blockers

Wikia is not accessible if you've made further modifications. Remove the custom ad blocker rule(s) and the page will load as expected.