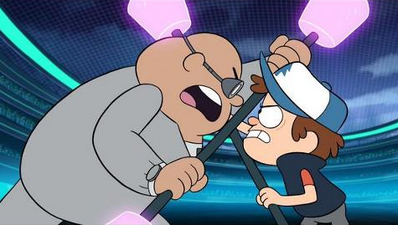 Jeffrey, Jaden, Hiccup & Friends go to Gravity Falls - Blendin's Game is an upcoming crossover to be made by Tigerman531, Aaron the Meerkat and Ren the God of Humor.
Plot
Trivia
Scenes
Soos' Birthday
(Soos is being brought over blindfolded by Candy)
Soos: Alright, You promised a giant hummingbird, so I'm expecting to see a giant hummingbird.</span>
Xion: *thinks to herself* Hope this works.
Candy: Three, two, one. *takes the blindfold off Soos*
Soos: *sees what's in front of him*
Dipper, Mabel, Grenda, the Justice Guardians and Team Berk: *come out and toss confetti* SURPRISE!!!!!
Mabel: Happy birthday, you king on Earth! We got everything you love. Cake-flavored pizza, pizza-flavored cake, *leads Soos to a tent labeled "Razzle-Dazzler"* and one more treat.
(The curtain opens to show Toby dancing)
Toby: Razzle dazzle, friends! It's the Razz-dazzler! This is what my life has become!
Soos: I...i...
Pinkie Pie: *smiles* I know!! Isn't it super douper fun?!?!
Jeffrey: *smiles* What do you think, pal?
Mabel: *gets out a camera* Quick! Everyone pose for the birthday smiles memory album!
The "Big Gunz"
(The gang has Soos blindfolded and dragging him into a laser tag building.)
Jeffrey: *smiles*
Soos: Alright, guys. Blindfold me once, shame on you. Blindfold me twice...
Hiccup: you'll be surprised.
Xion: You're gonna love this!
Soos:  Wait a minute! *sniffs* Hot dog smell? Sticky floors? Future sounds?
Jeffrey: *chuckles*
Soos: *takes the blindfold off and smiles at where he is* Laser tag?! I love laser tag!! How did you guys know?!
Hiccup: *smiles* a Lucky guess.
Xion: Surprise!
Mabel: Um... We defintely didn't riffle through your wallet. *laughs nervously*
Pinkie Pie: *smiles nervously*
Ad blocker interference detected!
Wikia is a free-to-use site that makes money from advertising. We have a modified experience for viewers using ad blockers

Wikia is not accessible if you've made further modifications. Remove the custom ad blocker rule(s) and the page will load as expected.