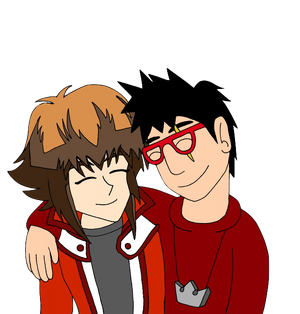 This is a list of adventures chronicles episodes that will be made by Tigerman531 and Ren the God of Humor.
For Jaden's Adventures chronicles, go here: Jaden's Adventures Chronicles
For the Jeffrey & Friends' Adventures and Jeffrey & Friends' Storm Adventures episodes, go here: Jeffrey & Friends' Adventures Chronicles
Heroes
Jeffrey Dragonheart, Jaden Yuki, Aqua, Alexis Rhodes, Xion, Lily Yuki, Jesse Anderson, May, Berkeley Beetles, Pikachu, Meowth, Winged Kuriboh, Ruby Carbuncle, Baby Tiragon, Injection Fairy Lily, Mitsuki, Nathan, Scamper, Brain, Nails the Spider, Bartok, Batty Koda, Patch, Mushu, The Cheshire Cat, The Mask, Mavis, Prince Thunderwing, Cri-kee, Shadow, Chance, Sassy, Delilah, Manny, Ellie, Peaches, Louis, Sid, Diego, Shira, Tammy, DJ, Crash, Eddie, Granny Sloth, Buck, Atticus Rhodes, Sam & Max, Brandy, Mr. Whiskers, Stuart Little, Margalo, Snowbell, Monty, Blaze, Skipper, Kowalski, Rico, Private, Kiva, Zoe Cruger, Impmon, Veemon, Jiji, Puss in Boots, Kitty Softpaws, Twilight Sparkle, Applejack, Rainbow Dash, Rarity, Fluttershy, Pinkie Pie, Spike, Apple Bloom, Sweetie Belle, Scootaloo, Babs Seed, Shining Armor, Princess Cadence, Discord, Courage, WALL-E, EVE, Charlie, Itchy, Sasha, Tom, Jerry, Osmosis Jones, Drix, Sabrina, Salem, Gonzo, Rizzo, Pepe, B.E.N., Leonardo, Raphael, Michelangelo, Donatello, Splinter, Robin, Starfire, Cyborg, Beast Boy, Raven, Spiky-Eared Pichu, Team Go-Getters, Zilla, Dawn, Piplup, Lea, Wander, Sylvia, Midna, Weebo, Aster, Dr. Crowler, Yugi, Tea, Joey, Mai, Tristan, Duke, Serenity, Snowflake,
Season 3:
Season 4:
Season 5:
Season 6:
Season 7:
Season 8:
Season 9:
TBA episodes
Holiday Related episodes
Chronicles Movies
Jeffrey, Jaden & Friends' Storm Adventures Chronicles Songs
Ad blocker interference detected!
Wikia is a free-to-use site that makes money from advertising. We have a modified experience for viewers using ad blockers

Wikia is not accessible if you've made further modifications. Remove the custom ad blocker rule(s) and the page will load as expected.