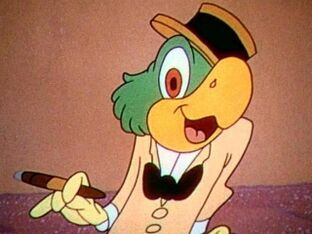 Jose Carioca (originally voiced by Jose Oliveira, currently voiced by Rob Paulsen) is a green Brazilian parrot. He first appeared in the Disney film Saludos Amigos in the segment "Aquerala do Brazil" in which he shows Donald the wonders of Brazil and samba music. He makes a return appearance in 1944's The Three Caballeros in which he takes Donald Duck on a tour of Baia in Brazil (which he has actually never been to) where he tries to impress a sexy senorita, much to the duck's annoyance. He meets Panchito Pistoles when he and Donald open his present from Mexico, and he becomes one of the Three Caballeros.
Trivia
Ad blocker interference detected!
Wikia is a free-to-use site that makes money from advertising. We have a modified experience for viewers using ad blockers

Wikia is not accessible if you've made further modifications. Remove the custom ad blocker rule(s) and the page will load as expected.