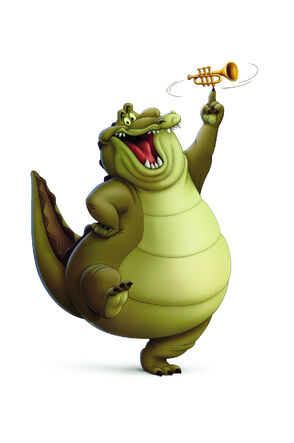 Louis (voiced by Michael-Leon Wooley) is an alligator from Jaden meets the Princess and the Frog. He loves to play on his trumpet, and dreams of performing for a human audience. But because he's an alligator, people immediatley take him for a danger. Louis (along with Ray, Jaden and his friends) helped Naveen and Tiana find Mama Odie so that they could be human. In the end, after Tiana finally gets her restuarant, Louis got to play music for the customers.
Trivia
Louis is a member of the Jungle Adventure Crew.
Louis will meet Jeffrey and his friends in Jeffrey & Friends' Adventures of The Princess and the Frog.
Louis is friends with Zoe Cruger and Benny the Beast.
Ad blocker interference detected!
Wikia is a free-to-use site that makes money from advertising. We have a modified experience for viewers using ad blockers

Wikia is not accessible if you've made further modifications. Remove the custom ad blocker rule(s) and the page will load as expected.