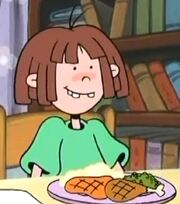 Margaret Rose "Moose" Pearson (voiced by Pamela Segall) is the daughter of Lydia Pearson and little sister to Pepper Ann. She is a cute tomboy with a deep voice and boyish behaviours, leading many to be confused about her gender.
Moose sometimes visit her sister Pepper Ann with her mom sometimes she would go on adventures with the cyberchase fighters.
Trivia
Ad blocker interference detected!
Wikia is a free-to-use site that makes money from advertising. We have a modified experience for viewers using ad blockers

Wikia is not accessible if you've made further modifications. Remove the custom ad blocker rule(s) and the page will load as expected.