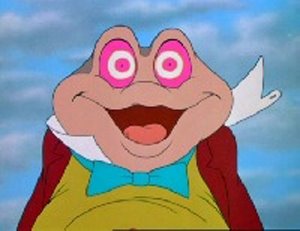 Mr. Toad (voiced by Eric Blore, currently by Jeff Bennet) is the main protagonist of Jeffrey, Jaden & Friends' Storm Adventures of The Wind in the Willows. Despite his status and his authority, he is a good chap who loves having fun with his friends, mostly his horse Cyril. But his actions tend to cause him trouble not only for himself, but for his friends too. When he was accused for stealing a motorcar, in trial, he said he traded Toad Hall for it, but his witness Mr. Winkie told everyone Toad tried to sell him a stolen motorcar. Toad was sent to jail, but he escaped, and his friends discover Toad was innocent, for Toad Hall was run by Weasels and Mr. Winkie. Toad and his friends recovered the deed to Toad Hall, thus reclaiming the place again.
Trivia
Ad blocker interference detected!
Wikia is a free-to-use site that makes money from advertising. We have a modified experience for viewers using ad blockers

Wikia is not accessible if you've made further modifications. Remove the custom ad blocker rule(s) and the page will load as expected.