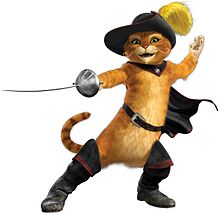 "Pray from mercy from..... Puss... in Boots!" -Puss to Shrek.
Puss in Boots (voiced by Antonio Banderas) is a character from the Shrek franchise and the main character of Puss in Boots. He's a cat who was a outlaw and assassin hired by Princess Fiona's father to kill Shrek. However, he is unsucessful. But he was a very heroic cat and pretty loyal. To deal with his enemies, Puss would take off his hat and make his eyes look cute (to the point where people would go "Aww"). His friends are Shrek, Donkey, Fiona, Kitty Softpaws and Humpty Dumpty.
Trivia
Jaden will first meet Puss in Boots in Jaden's Adventures of Shrek 2.
Jaden will see Puss in Boots again in Jaden's Adventures of Shrek the Third.
Puss will meet Jeffrey and his team in Jeffrey & Friends meet Puss in Boots.
He'll see them again in Jeffrey & Friends' Adventures of Shrek 2 and Jeffrey & Friends' Adventures of Shrek the Third.
He'll guest star in Jeffrey & Friends' Storm Adventures of Cats & Dogs where he'll actually be a ally to the dogs. At the end, he'll join the team. Puss will also pledge a life debt to Jeffrey as a sign of his friendship and loyalty to him, similarly to how he pledged a life debt to Shrek.
Puss in Boots will also be joining the Shell Louge Squad and Hiccup's Adventures team.
Puss Will Be Served As The Swashbucker Of The Hiccup's Adventure Team.
In Xion's Keyblade Training, Puss will help teach Xion how to wield her Keyblade.

After Jeffrey becomes king, Puss becomes his Captain of the Guard.
Ad blocker interference detected!
Wikia is a free-to-use site that makes money from advertising. We have a modified experience for viewers using ad blockers

Wikia is not accessible if you've made further modifications. Remove the custom ad blocker rule(s) and the page will load as expected.