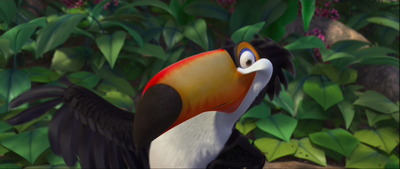 Rafael (voiced by George Lopez) is a toucan from Jaden goes to Rio, and is a friend to Blu, Jewel, and Jaden. He helps Blu and Jewel from getting the chain that holds them together by taking them to Luiz, who could remove it. Along the way, he helps Blu win Jewel's love (with Jaden's help) and shows Blu that it's sometimes best to act with your heart and not your head.
Trivia
Ad blocker interference detected!
Wikia is a free-to-use site that makes money from advertising. We have a modified experience for viewers using ad blockers

Wikia is not accessible if you've made further modifications. Remove the custom ad blocker rule(s) and the page will load as expected.