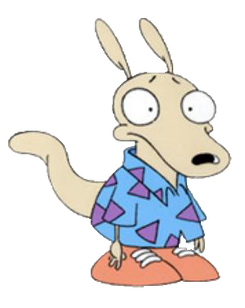 Rocko
(voiced By Carlos Alazraqui) Is The Main Character Of The Television Series Called
Hiccup's Adventures Of Rocko's Modern Life
He Lives With His house With his Pet Dog Named Spunky,Whenever He Gets himself On crazy Events, and Saying "(Doing Busy Stuff Like Grocery,Laundry,going to The Beach, Or Anything) Is A Dangerous Day." Whenever That Happens, His Best Friends Are
Heffer
, And
Filburt
. And His Enemies are Ed Bighead, Mr. Smitty, and Earl. Hiccup And his Gang Will Help Rocko and his Friends Whenever something Is Happening. At The end Of The Series, Rocko and his friends decides to go With Hiccup And his Friends On The Adventures.
Trivia
Rocko Will be Part Of Pooh's Adventures Team And Hiccup's Adventures Team.
Rocko Will Meet Hiccup In Hiccup's Adventures Of Rocko's Modern Life.
At some point, Rocko gets nervous because Xion is around, when she comforts him, he gets nervously blushing, meaning that he gets nervous when small girls are around.
Ad blocker interference detected!
Wikia is a free-to-use site that makes money from advertising. We have a modified experience for viewers using ad blockers

Wikia is not accessible if you've made further modifications. Remove the custom ad blocker rule(s) and the page will load as expected.