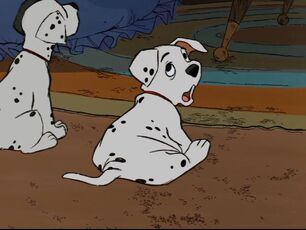 Rolly (currently voiced by Kath Soucie) is a character from Jaden's Adventures of '101 Dalmatians. He's a chubby dalmatian puppy who enjoys eating. He can be gentle and care-free at times, but after his family, food may be his true love.
In 101 Dalmatians: The Series, he spends time with his brother Lucky, his sister Cadpig and their chicken friend Spot.
Trivia
Rolly will meet Jeffrey and his team in Jeffrey & Friends' Adventures of 101 Dalmatians.
He'll see them again in Jeffrey & Friends' Adventures of 101 Dalmatians 2: Patch's London Adventure
Rolly will appear in the Jeffrey & Friends' Adventures Chronicles episode The day Patch falls in love.
Rolly will also appear in Love Conquers All Part 1 and Love Conquers All Part 2. There at the end, he'll become Danielle's boyfriend.
Ad blocker interference detected!
Wikia is a free-to-use site that makes money from advertising. We have a modified experience for viewers using ad blockers

Wikia is not accessible if you've made further modifications. Remove the custom ad blocker rule(s) and the page will load as expected.