Ruffnut And Tuffnut
(Voiced By T.J. Miller And Kristen Wigg) Are The Two Fratenal Twins In
Jaden Learns How to Train Your Dragon
. They Often Fight Each Other and Messing Around. and They Like to Have Fun And Act Like Bullies. And They Have The Hideous ZippleBack,
BarfBelch
. Whenever They do Something, They End up Fighting, Rocko Usually Tells Them To Stop, And They Are Mischevious Troublemakers, They Mess Up Everything in Berk and They Get In trouble. But They're Kinda Good Friends Of Hiccup. They can somehow don't understand what Hiccup or anybody tells them what to do and they can be stupid sometimes.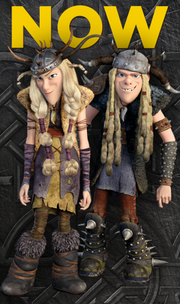 Trivia
Ad blocker interference detected!
Wikia is a free-to-use site that makes money from advertising. We have a modified experience for viewers using ad blockers

Wikia is not accessible if you've made further modifications. Remove the custom ad blocker rule(s) and the page will load as expected.