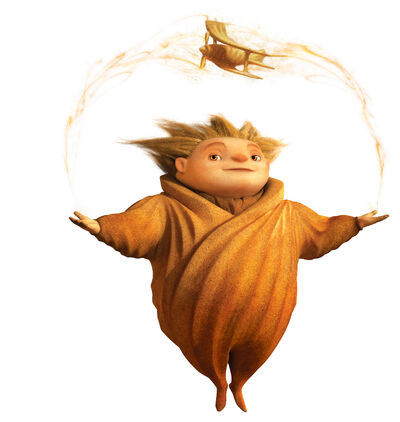 Sandy (Sandman)
is a character of
Jeffrey, Jaden & Friends' Storm Adventures of Rise of the Guardians
, and is the Guardian of Dreams. He doesn't talk because he doesn't want to wake anyone up. He uses his golden dream sand to create images above his head to communicate. Sandy uses his sand to 
send children dreams that help their wishes come true, for a wish always begins with a dream.
When
Pitch (The Boogeyman)
threatened the children of the world, Sandy was summoned to help stop him. Pitch destroyed Sandy during a battle, and the other Guardians, and Jaden and Jeffrey's Teams were saddened from losing him. But he was later revived when the children's faith in the Guardians was restored, and he helped stop Pitch.
Trivia