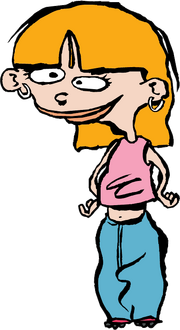 Sarah
is
Ed
's bossy, psychotic, spoiled, short-tempered younger sister, who acts cute and charming only when it serves her. Sarah has Ed's unending loyalty and obedience, mostly due to her constant threats of tattling on him. The fact that their mother always believes Sarah, even when she is fibbing, doesn't help. She has a very loud mouth, a hair-trigger temper, and is easily agitated by others, especially her brother.
Trivia
Ad blocker interference detected!
Wikia is a free-to-use site that makes money from advertising. We have a modified experience for viewers using ad blockers

Wikia is not accessible if you've made further modifications. Remove the custom ad blocker rule(s) and the page will load as expected.