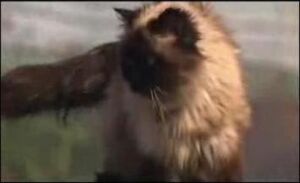 "Oh, right. Like if you yap at it, it's going to come right down and ask you to eat it. Ha! Pitiful." - Sassy to Chance as he barks at a raccoon on a tree.
Sassy (voiced by Sally Field) is a himalayan cat from Homeward Bound: The Incredible Journey. Her friends are Shadow and Chance (sometimes). Her owner is Hope. Sassy is very nice, but like Scamper and Jiji, she can also be quite sarcastic.
Trivia
Ad blocker interference detected!
Wikia is a free-to-use site that makes money from advertising. We have a modified experience for viewers using ad blockers

Wikia is not accessible if you've made further modifications. Remove the custom ad blocker rule(s) and the page will load as expected.