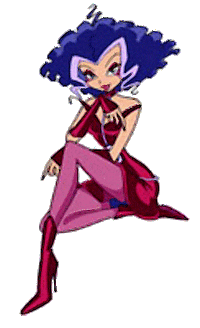 Stormy
 is a young witch and is described as the "
Queen of Storms
" or "
Storm Queen
". She's the youngest of the
Trix
sisters and as such happens to be the weakest of them, but what she lacks in power she makes up for by being the most aggressive one. Extremely proud and immature, her most defining feature is most-likely her frizzy "storm cloud" shaped hair. And while she actually believes herself to be the strongest, she really is not.
Trivia
Jaden and Jeffrey may face Stormy one day.
Ad blocker interference detected!
Wikia is a free-to-use site that makes money from advertising. We have a modified experience for viewers using ad blockers

Wikia is not accessible if you've made further modifications. Remove the custom ad blocker rule(s) and the page will load as expected.