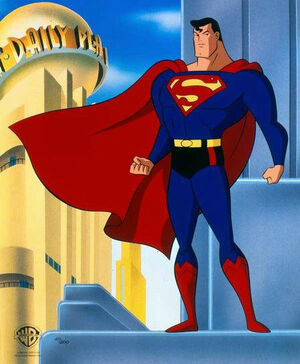 Superman
, birth name
Kal-El
and adopted name
Clark Kent 
(voiced by George Newbern) was the premiere
hero
on Earth, often considered the
first among equals
of the founding members of the
Justice League
. Superman first appeared on Earth after his home world of Krypton was destroyed, his one one weakness is Krytonite. This mineral will drain Superman of his powers for a little bit in a short amount of time. However, after a long exposure, Superman might be killed from the mineral's affect.
Trivia
Superman will meet Aaron in the Future.
Gallery
Ad blocker interference detected!
Wikia is a free-to-use site that makes money from advertising. We have a modified experience for viewers using ad blockers

Wikia is not accessible if you've made further modifications. Remove the custom ad blocker rule(s) and the page will load as expected.