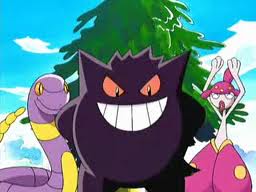 Team Meanies is a rescue team from Pokemon Mystery Dungeon. Unlike other rescue teams which rescue Pokemon out of the goodness of their hearts, Team Meanies use their rescue team status as a way to gain wealth and power.
It's members are Gengar, Medicham and Ekans.
Gengar's moves
Shadow Ball
Night Shade
Lick
Medicham's moves
Focus Punch
Ice Punch
Confusion
High Jump Kick
Ekanses moves
Trivia
Ad blocker interference detected!
Wikia is a free-to-use site that makes money from advertising. We have a modified experience for viewers using ad blockers

Wikia is not accessible if you've made further modifications. Remove the custom ad blocker rule(s) and the page will load as expected.