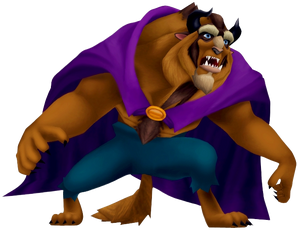 "I never felt this way about anyone."
- The Beast (Adam) discovering his feelings toward Belle.
Beast (Vocied By Robby Benson) is one of the titular characters of Jaden meets Beauty and The Beast.
Gallery
Trivia
Beast will meet Jeffrey in Jeffrey & Friends' Adventures of Beauty & the Beast.
Jeffrey shows no fear of the Beast and is the only one allowed to enter to the West Wing (but ONLY if he allows him to). He also shares a special friendship with him since they both feel like monsters and want to be loved.
Beast Allows Talon the Liger Beast to Go to the West Wing. ( & ONLY Talon the Liger Beast, Benny the Beast & Him Alone.)
In the 2015 movie Descendants , Belle & Beast (Adam) will have a Son named Ben (pertrayed by Mitchell Hope).