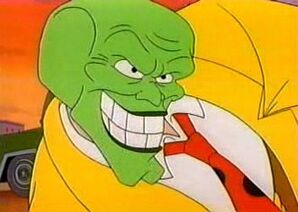 "Sssssssssmokin'!" 
-The Mask's catchphrase.
The Mask (voiced by Rob Paulsen and protrayed by Jim Carrey) is a hilarious, mischievious, but good magical being. Whom ever puts on the Mask will be granted toon-like powers. A man named Stanley Ipkiss found it, and uses it whenever there's danger. Although, an officer thinks he's a criminal.
Trivia
Gallery
Ad blocker interference detected!
Wikia is a free-to-use site that makes money from advertising. We have a modified experience for viewers using ad blockers

Wikia is not accessible if you've made further modifications. Remove the custom ad blocker rule(s) and the page will load as expected.