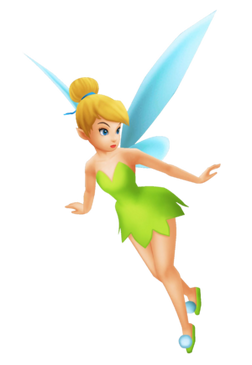 Tinker Bell
(Voiced by Mae Whitman in the 2008 movie and sequels) is a fairy who resides in Neverland and is Peter Pan's best friend. Her pixie dust allows others to fly like she and Peter can. In
Jaden meets Peter Pan
, she helps Peter find his shadow in Darling house. But after Wendy, John, Michael, and Jaden's team wanted to go to Neverland with them, Tinker Bell got jealous of Wendy, and felt heartbroken. Captain Hook tricked her into telling him where Peter Pan's hideout so that he would help get ride of Wendy. But after he revealed that he was gonna blow up Peter with a bomb, she saved Peter, but got hurt from the explosion. Tinker Bell healed in time to help the Darling children and Lost Boys escape from Captain Hook, and helped the Darling's return home. In
Fairies,
Tinker Bell live in
Pixie Hollow
with her friends,
Silvermist
,
Fawn
,
Iridessa
,
Rosetta
,
Vidia
and her sister, Periwinkle.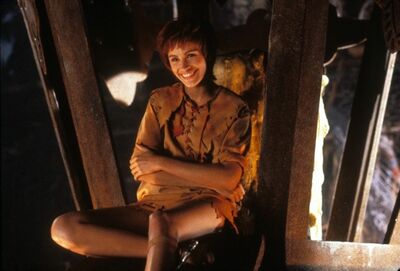 Trivia
Ad blocker interference detected!
Wikia is a free-to-use site that makes money from advertising. We have a modified experience for viewers using ad blockers

Wikia is not accessible if you've made further modifications. Remove the custom ad blocker rule(s) and the page will load as expected.