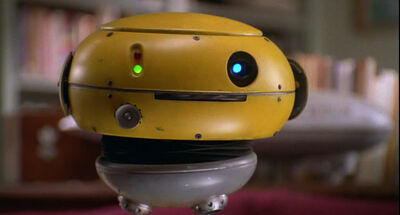 Weebo
(voiced by Jodi Benson) is Professor Philip Brainard's robot assistant in
Jaden's Adventures of Flubber.
Unlike some of robots, she feels love, and she loves Philip. She was the one of classify the green substance as "flying rubber." When Medfield College sponsor Chester Hoenicker becomes interested in the Flubber, he sent two goons to steal it. Weebo (along with
Jaden
) tried to defend the Flubber, but was destroyed, and "dies." After getting the Flubber back, Philip creates Weebos daughter,
Weebette
. Philip also bequeaths Weebo to Jaden, asking him to take care of her.
Wile E. Coyote
successfully repairs her, although she has no memory of Jaden and the other before she was destroyed.
Trivia
Her "death" is one of the rarest moments Scamper ever cries.
She will guest star in Jaden's Adventures of Robots.
Weebo will meet The Justice Guardians, the Shell Louge Squad and Team C.A.T. in Jeffrey, Spongebob, Spyro, Dave Felis & Friends meet Flubber.
She becomes very close friends with Botley. The two even start to love each other.
Weebo might join Jaden and Jeffrey's team.
Jeffrey plans to give Weebo a special upgrade that will help her fix herself whenever she gets hurt.
Weebo will guest star in Jeffrey, Jaden & Friends enter The Black Hole.
Ad blocker interference detected!
Wikia is a free-to-use site that makes money from advertising. We have a modified experience for viewers using ad blockers

Wikia is not accessible if you've made further modifications. Remove the custom ad blocker rule(s) and the page will load as expected.